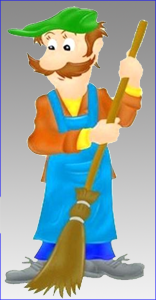 [This article can also be found in the Wiki at: TNG Setup]
You may have your family research in paper form, on loose paper, in binders, printouts from websites.  But, at least you do have some form of organization.  If you are starting with paper, then you will likely be entering your family into TNG manually.
Or, you may be using one of the commercial family tree applications, such as Family Tree Maker, Legacy, Brothers Keeper or others.  In this case, you likely want to import your family data into TNG in one easy step.
Either way, you could suffer the scourge of all data collection websites: "garbage in equals garbage out".  TNG is not going to clean up your bad information for you.  That should take place ahead of time.  Below are some suggestions.
Names
Hopefully, you are using the full surname and given names of your family members. Regardless, TNG will work with whatever you have.  It will also accept nicknames, titles, prefixes, suffixes, even aliases (a.k.a., etc.).  If you do not have given names, you can use initials, or just use "<unknown>" or leave it blank.  If you don't have a last name or surname, then consider whether you are ready to add that individual to your online study.  You can always add later.  Or again, you could use "<unknown>" if this person is important.
This is a good time to review surname spellings.  Surnames have a habit of changing spellings through the generations.
Gender
Check the gender of your individuals, to make sure you have people set up correctly as male and female. If you do not know, you can still set them to 'unknown'.
Missing dates
(This is relevant only if you are importing information into TNG via a GEDCOM file).
We do not always have dates of events on our ancestors.  TNG works with dates on a person's birth, christening, marriage, death and burial.  It can also hold dates on Custom Events, such as baptism, occupation, immigration, and any others you may wish to set up yourself.  Sometimes you only have an approximate time, such as a year but no month, or an estimated year.  There are ways of dealing with this in TNG, so collect and enter whatever date information you can find.
TNG likes to see dates in a particular format: DD MMM YYYY.   For example, to TNG, "today" is 28 Feb 2019.  This is a standard for genealogy software, so if you are importing from such a package, this is handled automatically.
Stranded individuals and families
But what if you have a small twig of a family, a list of people who do not yet mesh into your  one-name study, but you do suspect they are connected?  You can make isolated non-connected branches in TNG with stranded people.  So go ahead and prepare them for inclusion.
Whenever you finally do discover the connection, you can then link a key individual of the isolated branch into the right tree and all related people will follow.
Living and private
With your living relatives, you may not want their personal information to be available to the world on a website.  You may have certain other people where you do not have permission to share, or there is a family reason for not sharing.
Before importing such people into TNG, first check that living and private settings are correct for those individuals.  If that is troublesome, TNG does have custom reports (future article) you can use to see who is set to living and to private, after you import.
TNG also has living and private settings that can be applied during import.  See Setup >> Configuration >> Import Settings.
Places
Along with names and dates, your ancestors had places to stay, to be born, to be buried.  Sometimes you do not know, or only generally know the names of these locations.  Just add what is known.
There is a convention for how places are named in TNG.  One reason for following this pattern is that it makes it easier to find and to list locations.  TNG starts with the village, town or city, then the county, parish, township or region, then the county (Ireland), province (Canada) or state (U.S., Australia) and finally the country.
Do you bother to add the country?  Everyone knows the location of Cambridge, or London.  But you can find both those cities in Canada.  If your research is confined to one state or province or county in a country, then you could consider dropping the country name.  That may create more work for you later on, if your family study starts to spill over boundaries.  When you get to geocoding places on maps, having the full location name will be very handy.
You can free-form or abbreviate the names.  But please keep in mind that European visitors are not familiar with the two-character province/state abbreviations of North America.  Similarly, those on the west side of the Atlantic will get confused by small places in Europe.  Be kind and consider your viewers.  For more information see the tutorial sections on Places (future article) and on Mapping (future article)
Another decision: original ancient name of a place, or contemporary?  What happens if country borders get redrawn after wars?  This is a tricky challenge that is your choice.  Best to be consistent.
Sources and repositories
You did keep track of where you found your information?  You have listed your sources and where they are found-, right?  This just might be the time to go back over your records and make a list or spreadsheet on that vital information.  This is one big regret by every family researcher I know, that they started source recording late in their hobby.  In too many cases, the original source has been lost, destroyed or forgotten.
Once you have your sourcing sorted out, then TNG has a great way to keep track for you.  Check out the tutorial section on Sources and Repositories (future article).