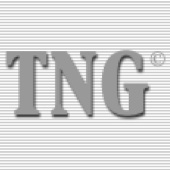 TNG has a few built-in events ready for your use, as described in the related article, Events.
What if the default events are not sufficient?  Are there more?  What if I want to add my own, unique custom event?  Here is how.
One of our members wanted to add "occupation" as an event to an ancestor's page, but was not sure how to do that.  I wanted to have census events included on my own ancestor's page.
We start at the Custom Event Types page, which you get to through the Administration Panel.  The Search tab will list all of the custom events that you have already selected.  If this is your first visit here, there will be no custom events to list.  Not yet.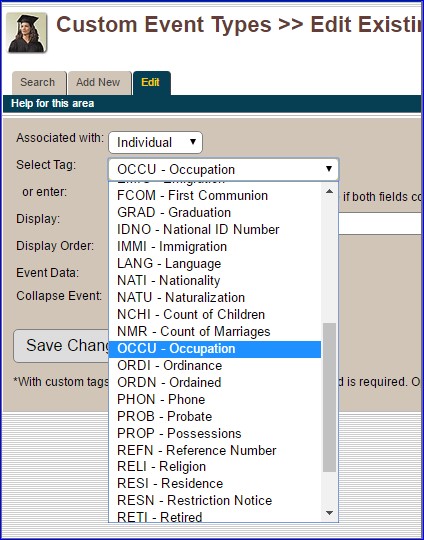 Our first task is to add Occupation as a custom event.  Go to the Add New tab.  TNG comes with some forty extra events, available on this page.
Is your event to be associated with an individual, a family, a source or a repository?  It has to be one of these; you cannot associate a custom event with multiple options.
Next, we select a tag.  A tag is a 3 or 4-character abbreviation, all in upper-case letters.  These abbreviations are standard codes used in GEDCOM files.
How do you want the custom event identified to the public?  For the OCCU tag, I used "Occupation".  But you could instead use, Job, Work, Career or other if you want.  Keep in mind that you can have only one description per tag, so try to keep it generic.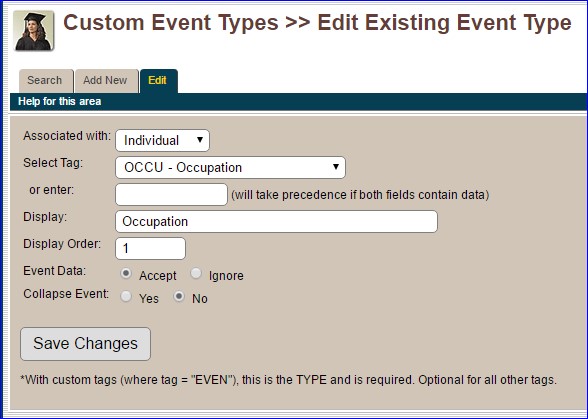 Display Order: You have some control over the sequence of custom events.  Events with associated dates are always sorted in order, chronologically.  Otherwise, events are sorted in the order they appear in the database.  You can sort custom events within a list by using a Display Order number, 0 and up; a lower number will be sorted higher.
Event Data: This controls the importation of events through a GEDCOM file.  Selecting Ignore means that this custom event will not be imported.
Collapse Event: This controls how your event will be displayed to the public.  If you tend to have long notes in your events, you may elect to display them as collapsed.  The visitor can see the full event and notes by clicking on the expand icon.
I have added reference number, census and occupation as custom events.  How does that affect my ancestor, John Fogan?
We save our Custom Event changes, go back to the individual in question, and go to edit his page.  I have already added these custom events to his page, with dates, places and details.  Here is his Other Events section:

Note that with the Action icons on the left, we can edit or delete the custom event from John's page, or add notes and sources.
How will this look to the public?  We now have an enhanced display page for our ancestors, enriched with even more dated events in their lives.