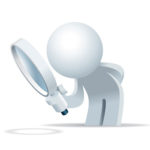 In a related tutorial article, we talked about
Getting exposure on the search engines
for our TNG site.  Now, how about letting the light shine a bit on our ancestor ladies?
A big problem in searching for our female ancestors is the name change upon marriage.  Let's say your grandmother, born as Elizabeth Brown, got married to John Green.  In your genealogy application, she is entered with her maiden name.  But for most of her life, she might have gone with a different name, say Lizzy Green.  Maybe John died, and she married again, to James Blue.  So, the possibilities become:
Elizabeth Brown
Elizabeth Green
E. Green
Lizzy Blue,
Mrs. James Blue, and so on.
You want your grandmother to be discoverable in your TNG site by the searchers, both people and the search engines.  Can you make that possible?
That is where the custom event type can help out.  Start with the article
Events: Adding your own custom events
.  Now, add your own custom event for this purpose.  I am going to call it: Married name.
Note: you can add this custom event type into your home computer family tree application, then import the information into TNG using a GEDCOM.  Otherwise, I will assume you are adding this event yourself into TNG manually.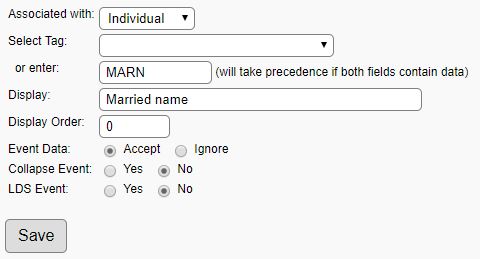 Go to Admin >> Custom Event Types >> Add New Event Type.  Add the event type as shown.  You can use my Tag ID or one of your own, and use your own Display description.  Check the online help from the TNG page for additional information.  An event tag can be used multiple times for the same individual.  Therefore, if Grandma Lizzy went by several names, you still only need the one Custom Event Type for this purpose.
Click on Save.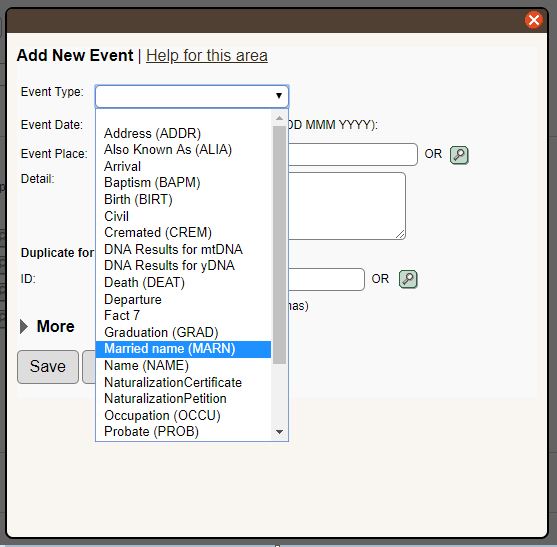 Okay, I am going to add the married name for my own grandmother.  She was born Sarah Isabella Acheson, was known as 'Sadie' and married Emil ("Rusey") Weber.  After marriage, she was Sadie Webber.  There is a story behind the change in surname spelling, but that will wait for another time.
Let's update Sadie's profile page. I go into editing mode and look in the
Events
section.  Click on the Add New button below
Other Events.
   Note the new event type in the pull-down list: "Married name (MARN)".   Select it.
Now you can fill in the other text boxes as you wish.  Use the Detail box for the desired display name for the person.  See below.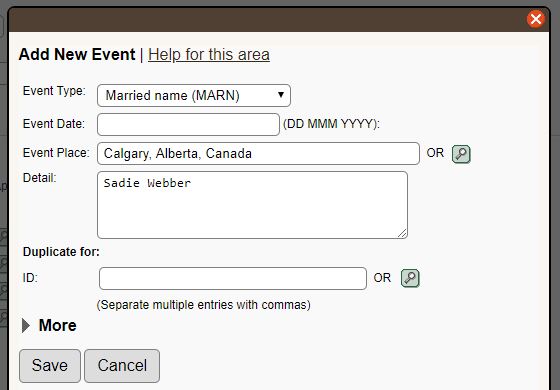 Note that I added the marriage date and place.  Which gives me this result on Sadie's profile page.
But, I now find that the marriage date and place just add to the clutter and are unnecessary for my purposes.  The marriage event is elsewhere
on Sarah's profile page.

So, I go back into this custom event type for Sadie, and blank out the date and place, then save again.  Looks better.

Sadie did not marry again, but she did go by her husband's name on source documents.  So, I will add another MARN custom event for Sadie:
My grandmother should now be discoverable by searchers, for any of her names in life.