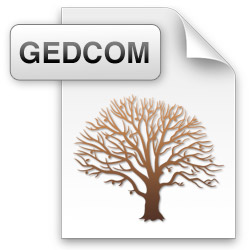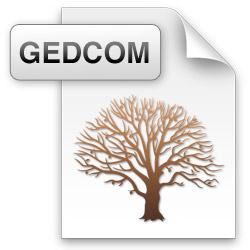 One of our Guild MWP users, Maurice Hemingway, hemingway.one-name.net, reported an unusual problem.  After exporting a GEDCOM file from his Legacy program and importing it into TNG, there were several living relatives showing as visible to the public.  Maurice re-checked his 'living individual' setting in his administration area, and they should not have appeared.  Maurice and the TNG team exchanged several emails, narrowing down the problem.
One of the TNG team members finally uncovered the culprit.
There is a setting inside the administration panel that, at first glance, you would not associate with the privacy settings.  Under certain situations, it does.
The problem originated back in the Legacy program.  Maurice has some living relatives where he did not enter the birth date.  It happens- at times we do not have full information on our cousins.  When the family tree was imported into TNG, a setting for GEDCOM importing was invoked.
If you go into your Administration panel, select Setup and Import Settings.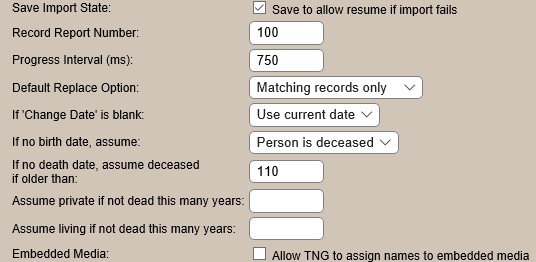 Note the selection for "If no birth date, assume" is set to "Person is deceased".  Which means, any of Maurice's living relatives, with no birth date, will be set to "deceased".  TNG would then publicly reveal details on those people.
If this is a problem for you, change the selection to "Person is living".  While you are at it, have a look at the other settings.  The Help tab on the settings page will guide you through the choices.  If you want to check for other issues with your TNG data, review the previous article on Data Validation.