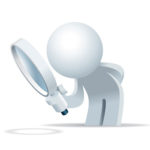 You have your TNG website set up, it is nicely populated with dead people, your photos are magnificent, and you are anxious to let the world know about it.
So, how do you get the word out so that the internet search engines can find your handiwork?  There are some easy first steps available.
You will need some patience on the results.  The search sites, such as Google, Bing, Safari, Yahoo and others use a tool called a search bot, or web crawler, or similar.  Basically, these are internet utility applications that autonomously go out through the internet, searching for website content that would be useful for browsing results.
Once a search bot finds your site, and that could take some weeks, it will start with your homepage, looking for key or unique words, and any hyperlinks or buttons that will let it explore inside.  A search bot can only do what a human visitor can do.  If you have privacy settings, the bot cannot bypass them.
They do no harm to your website and do not violate your privacy settings.
Note: there are some bots that are less than honest, but the TNG application has a level of protection in place.
For registered Guild members, use the power of the Guild's official website to help promote your TNG site.  Add your website to your own profile page.
Here is the profile page for the Guild's own Ruby one-name study.  Note the Guild hosted website: line with the hyperlink to the TNG study itself.  This page is open to the public to view and for the search bots to visit.

If you have any other websites and if you have a Facebook account, add a link to your TNG site, along with some explanatory text.
If you are a member of a family history society, history group or similar, see if you can have a link added to their sites.
Now, let's check out some settings available inside of TNG to help.  We will use my personal Webber/Acheson TNG site as an example.  It has been running for almost a year and has acquired some searching visibility.  I am also using Google Chrome for my browser tool, but the other browsers will work similarly.
One of the first places to work on is the text in the tabs at the top of your browser window.  You have control on the content.  Ever wonder where Google gets that information?
The tab content for a starter TNG site will look like this:

The little icons, i.e., the tree on the left tab and the Guild logo on the right tab, above, come from another area of TNG that is admin access only.  However, notice the text: "Our Family Genealogy Pages".  Not very noteworthy, not yet.  We need to announce the contents of the browser window.
Let's try for this, instead:

The text is a bit faded at the end, but visitors know they are on the right tab, and we will see the full text shortly.
To add your own browser tab text, log into your TNG site and go to the Administration page, then Setup, then General Settings.  Open up the Site Design and Definition section.  Add your own text to the "Site Name" text box:

That change takes place immediately.  But now that you have added a useful site name inside of TNG and on the browser tab, the search engines pay attention.
Just below the "Site Name:" box is the "Site Description:" box.  That also helps the search bots with key words on your TNG site, so it is worthwhile filling that out with a few sentences.
Here is the search result on Google for my Acheson TNG site: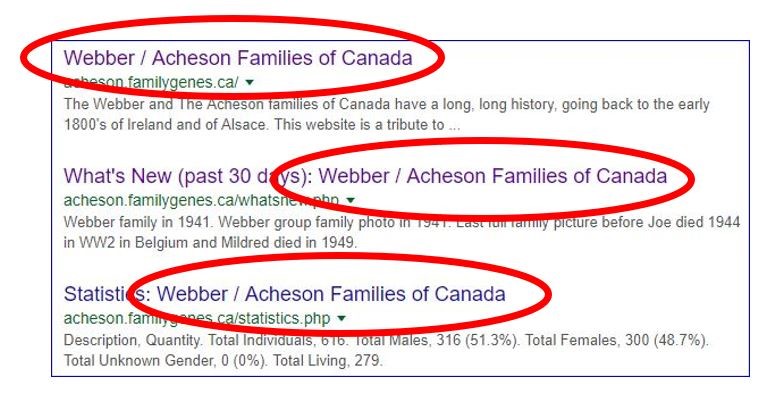 Notice that the "Site Name:" that was inserted into the TNG site General Settings has now become part of the Google search results.  Again, a verification for someone looking for your TNG site.  This also moves your site up in rank in the search results.
Look a bit closer at the first result.  There is some text that came from my homepage welcoming paragraph: "The Webber and the Acheson families of Canada have a …"  Your searcher can quickly find out if this website is going to be worth visiting.
What you put in your homepage is important to search engines, so make it informative and relevant.  It helps to:
Include the surnames that are important to your research.
Some of the TNG templates (templates #12 and #16) display the most common surnames in your TNG database
You only get two to three lines of text displayed, so make the start of your welcome paragraph an eye-catcher
Include hyperlinks into the text of your TNG site, such as a link to the family original ancestor. Search bots pay attention to homepage links and will follow them into your site and do more search indexing.
Depending on the template, you may have built-in links into your TNG site. Please use them.  Keep in mind, the search bots will utilize them, so think about the pages you would like the bots to land on.
Then, be patient. It will happen.
While waiting, patiently, how do you check whether the search bots have found you?  There is a handy little trick to show you progress on search results.
In your browser, type in "site:" then-your-tng-site-URL-address.  See the example, below.  No space between "site:" and the URL.  Don't forget the colon after the word "site".
Note that the results include the count of results found.  Then you get a list of the results, listed in the order of their ranking by the search tool.  Once you start getting any search returns, your ranking should improve steadily, eventually leveling out.
These are the search results from my personal Benedict TNG site: