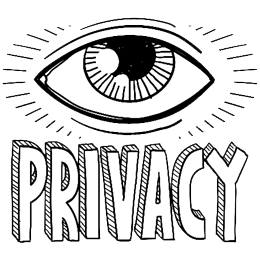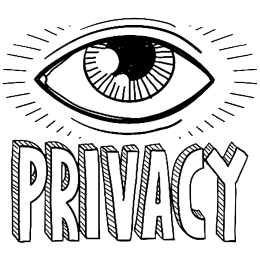 Because of current concerns on private information on websites, the criteria for protecting on-line information has become stricter.  New legislation, such as the European GDPR, now requires us to be a bit more conservative in our family history storage and display.
With the release of TNG version 12, there are three new features to assist us with this challenge.  You can find them in the privacy section, at Admin >> Setup >> General Settings >> Privacy.  And it is easy to manage.
Also visit Users, Access, Privacy and Security for other articles on this topic.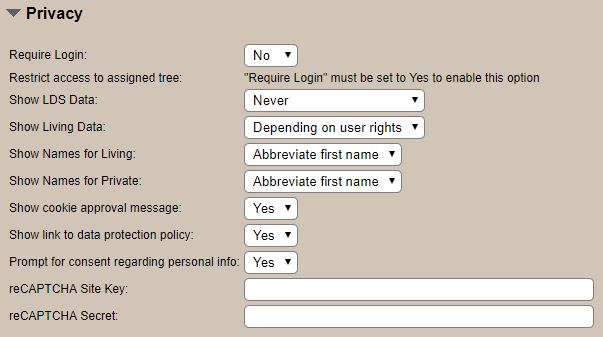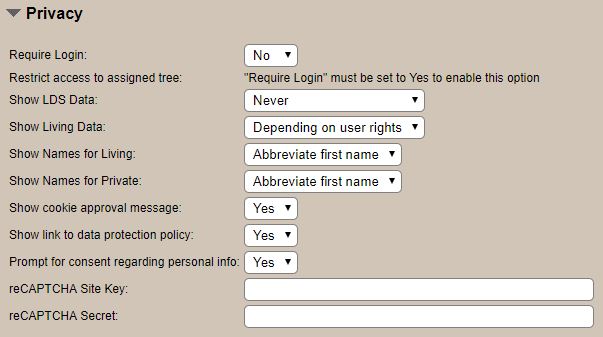 Log in as Administrator and go into the privacy section. 
Note the five new lines of information selections and information.  The last two, on reCAPTCHA, will be covered in another article.
Cookie Approval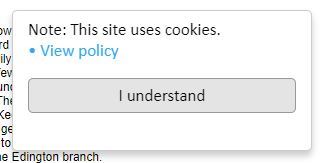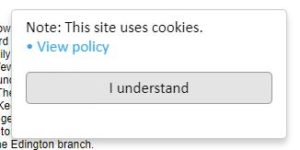 Cookies are  small text files that can be stored on your home computer.  Harmless on good websites, they help you with pre-stored information.
Ever wonder how a website, on a revisit, seems to remember your favourite names and selections, and can auto-fill some of the blank text entries?  Cookies. 
Cookies on your TNG site will make it a bit easier for your users and visitors to fill in name searches, for example.  However, you now should, or even need to, inform your visitors and users that cookies are in play, and that to use them, they have to give permission.  The cookie popup message, shown right, is what your visitor will see in the lower-right of the TNG webpage.  Once the visitor clicks the "I understand" button, the message will disappear, and a cookie will be set to remember the action.  From then on, that visitor will not see the popup again on subsequent visits.
Data Protection Policy

Having a data protection policy on your site that visitors can review is a good idea.  In fact, it is becoming a requirement in a number of countries, so you might as well have one in place.  If you select yes to "Show link to data protection policy", a new link will appear at the bottom of every TNG page (example, right).
The link is also shown on the cookie popup (see the "View policy" link in the cookie image, above), on new account registration and on suggest/contact us pages.
The Data Protection Policy is not editable.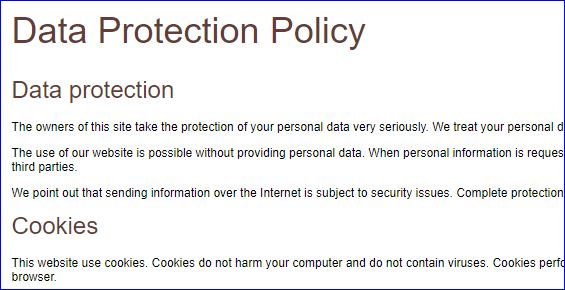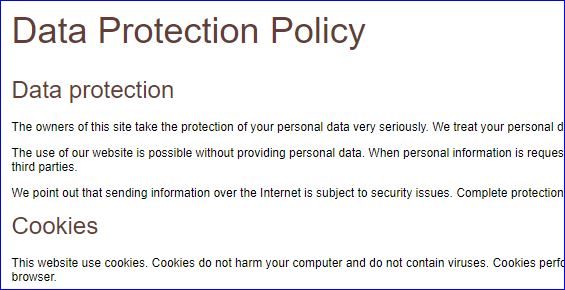 Personal Info Consent


Checking this box, "Prompt for consent regarding personal info:", will add a question to the pages for submission of comments, suggestions or new user registration.  Site visitors will then be required to check a box indicating they consent to the information in the form being recorded.  If the box is not checked, the submit button will be disabled.  If the button is clicked anyway, a popup will advise the visitor that the box must be checked before the form can be submitted.
reCAPTCHA
The reCAPTCHA is that little tool that determines that "you are not a robot".  The TNG Team will be adding the Site Key and Secret stuff for you, once we get all the version 12 upgrades sorted out.