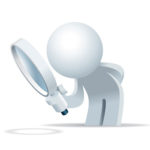 Your TNG site has a handy, built-in search tool.  I find it has two purposes: to locate those obscure items you added sometime a year ago, and also to find out just how popular your family tree has become.
This tool is as easy to use as any search on your browser.  In fact, it DOES use a web browser: Google.  You don't need to log in to use the tool; it is available to any visitor from your homepage.
On the homepage main menu, look for Find >> Search Site, or just Search Site.  You should see this screen.  Note the comment:
"This page uses Google to perform its search. The number of matches returned will be directly affected by the extent to which Google has been able to index the site."

Type in the search text string.  As with browser searches, you can use spaces and quotation marks to enhance your search.  When you click in Search, TNG will submit the search string to Google, and will return results, JUST for your TNG site.
The result, below, is from my standalone Benedict TNG website.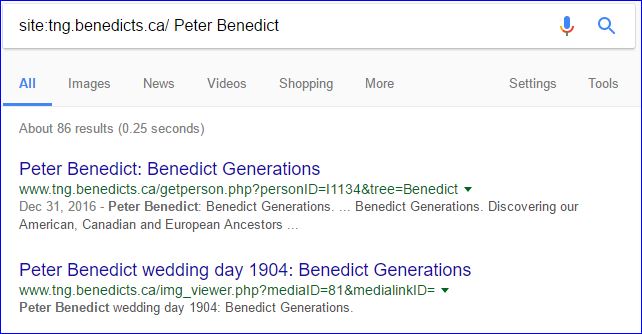 What information comes back from the search?
First, you can see all the instances of Peter Benedict in my TNG site.  If I had added Ontario to the search box, that would have narrowed the results further, to Peter Benedict while in Ontario.
The second value is finding out the visibility of your TNG site with search engines.  This example search returns 86 results.  It does indicate that my TNG site is available to fellow family researchers.
A Quirk
However, there is a quirk for TNG members with our multi-instance TNG services, for the Guild of One-Name Studies and for the Alberta Family Histories Society.  Because of the unique file path of the TNG site, you need to edit the Google results page.
The same search request, on my Guild TNG site, returns no results.  See below

Why?  The Guild TNG site, as well as the AFHS site, adds "/tng" to the Google search.  How to work around that?  Go into the Google search text box, shown above, and edit out the "/tng" text, then click the search icon (or just click the Enter button on your keyboard).
This anomaly will be addressed at a future modification to the TNG scripting code.