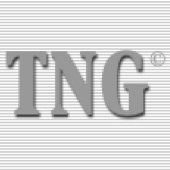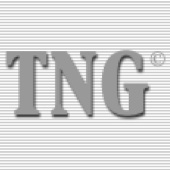 So, what do you get, right out of the TNG box?  It's a screen that is downright confusing, see below.  First, you see a rundown small-town beat-up string of stores, of a hundred years ago and a town that is nowhere near your ancestors.  And a welcoming paragraph in some foreign Latin-like gibberish.  This is not what you signed up for.
But it is the default TNG installation as it comes from the factory.  So let's explore around a bit further.
Main Page
TNG has a wealth of useful tools buried behind the opening page.  There is a fully powerful database manager, known as MySQL, designed to house your ancestors, their families and all of the family connections.
It will also hold your security information on you, your invited users, passwords and data access.  The database knows how your family members are related to the stored images, cemeteries, headstones, documents, sources, repositories, mapped locations and more.
This main page, which we will call the homepage, is where you and your users and your visitors will normally start.  Later on, we will point out that you can go directly to an ancestor's information page, once we get the family tree populated.
Am I stuck with this brownish, single photo, one paragraph layout?  No.  You have 14 different layouts waiting for you, called templates.  That will be covered in a later article.
The Header
Along the top (A), we can read "Our Family HISTORY".  This is an image that you can replace with your own family title and byline.
Along the right there are two text boxes (B), where your visitors can enter in a search for potentially interesting people in your tree.
Homepage Main Area
The main part of the homepage has three areas of interest.  Along the left-side (A) is the main menu, which gives visitors viewpoints into your family tree.  If they have been set up as users by you, they can log in for even more information.
The Statistics link is interesting, as it shows just how large your tree has grown and also includes some interesting facts, such as the oldest person in the database.  Some items might be removed from view by you, such as Contact Us and Register for a User Account, depending on permissions that you control.
The featured photo at (B) is a placeholder set up by the software author.  You will find out later on a method of substituting your own image.
The last item on this homepage is the welcoming paragraph at (C).  The title, Main Feature and the contents will be replaced by your own text.  And you can get creative, putting in paragraphs, links to other sites and embedded images.
An Example of Custom Homepage
Once you get into overhauling the homepage, what could I expect?  Here is one example, to the right.  Visit the other TNG sites on this site of the society to see other, even better examples.
Administration Panel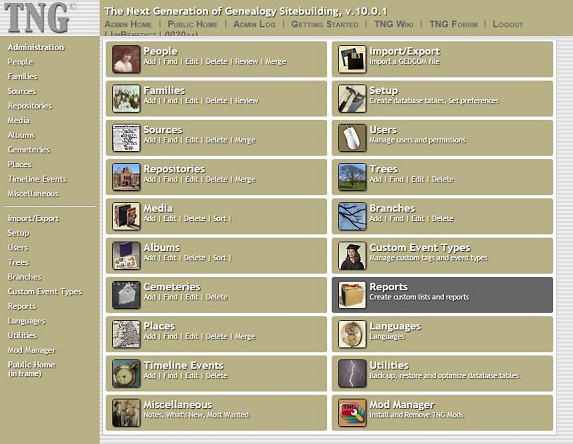 The control of TNG really takes place on the Administration panel.
Log into your TNG site.  If you are still using your temporary password, now is a good time to change it to something a little more familiar for you.
The screen appears to not have changed, but it has.  The main menu at the top said Log in but now it says, Log out.  Click on the Administration link and you should see the screen, above.  You will be visiting most of these selection 'tiles' during your exploration of TNG in the next few months.
There is some setup work to do before leaping into your family tree, so over the next few articles, we will talk about trees, users and setup.