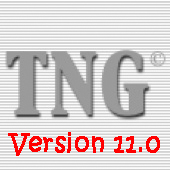 There is a lot of information to be stored in your TNG site.  How do you keep track of the quantities of documents, people and media?  Up until now, you either went into the section of interest and used the Search list, or you might find a value in the Statistics page.
In Version 11, the Administration page will now show you a count for just about any category of information within TNG.  This includes counts of people, families, sources, media, cemeteries, places, trees, branches and even more.
To see this, log in to TNG and go to
Administration
.  Depending on your login access settings, you will see part or all of the Administration Panel.  Below is a screenshot of my own Benedict site.  Note the counts shown in the upper-right corner of each tile.