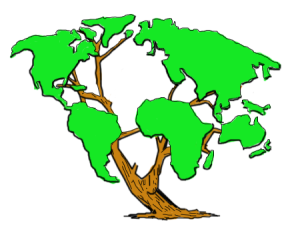 My own TNG site was looking pretty spiffy last week, all plump with lots of dead relatives and images.  Then I noticed, on one of my individual's pages, something that should not be there.  No, I screamed (silently to myself, we family researchers being a quiet lot), NO!!!
T
here, on the individual profile page, along with the tabs for Individual, Ancestors, Timeline and Edit, was a tab for GEDCOM.  I was not logged in but my site was offering my GEDCOM for any drive-by visitor to download all of my family research.  How did that get there?
Time to dig through the settings.  First thought was the General Settings page, likely under Privacy or Miscellaneous, or somewhere in the vicinity.  No luck.  Well then, it must be a User setting because that is where you restrict people's roles and responsibilities, right?  Again, no luck.
My son kindly led me to the right page: Trees.  Which makes sense in the end, as a GEDCOM is associated with one tree, inside TNG.  You export one tree at a time, and you import the GEDCOM into a selected tree.  So you control access to any GEDCOM through the Tree page.  Let's explore.

Setting up of a tree is straight-forward and visit the article TNG: How to set up trees for an explanation.  Note on the bottom of the page a set of check boxes, including one labelled as: "Don't allow users to download GEDCOM files".  That's the magic key.  By selecting that, the GEDCOM tab will not appear on either individual or family pages to the visiting public.  It will also not be visible to your registered users unless you set their User page GEDCOM permission to "Allow".  See the article TNG: Security and users for more explanations.
If you have multiple trees on your site, as I do, you can set some trees to allow GEDCOM downloads to users and other trees to disallow.  This is a personal choice.  I tried it out and it does work.  Each individual and family in TNG is associated with a tree and the GEDCOM access is controlled by the tree setting.
I now have all of my tree GEDCOM permissions set to disallow user and public access and can be confident that my research remains within the family.