Michael Weber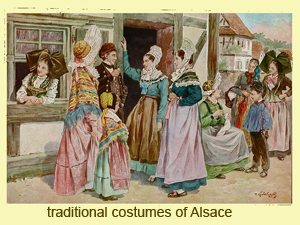 Born: April 1660 at Dauendorf, Bas-Rhin, Alsace, France

Married: unknown date in Alsace region to Eve Gass
Died: 17 Sept. 1711 at Dauendorf, Bas-Rhin, Alsace, France1
Family Tree: Michael Weber in Family Genes
Family Lineage: Michael Weber2 (Jacob1)

Contributor: Jim Benedict
Parents
Children
Joannes Michael Weber
Pancratz Weber
Eve Gass
Eve Gass was born before 1668 in the Bas-Rhin region of Alsace.  She and Michael were married by 1686 and raised three known children.  Her parents were Jacob or Jacques Gass and Anna Hugel Hucq.  she died in 1704, and Michael lived another seven years.
Backdrop
The parents of Michael Weber had experienced major upheavals in Alsace with the conquest by the Kingdom of France, as a side conflict within the 
Thirty Years' War
(1618-1648). The warfare caused massive numbers of the countryside population to die or to flee. This resulted in an influx of immigrants arriving from Switzerland, Germany, Austria, Lorraine, Savoy and other areas after 1648, up to the mid-18th century. Strasbourg became a main centre of the early Anabaptist movement, due to Swiss
Anabaptist
 refugees between 1671 and 1711.
France occupied Strasbourg in an unprovoked action in 1681. Alsace remained largely German in culture, education and government for another 60 years, until the French Revolution in 1789.2
Footnotes
Source:  Michael Weber in Geneanet [↩]

The Alsace Weber line was derived from genealogy research by Richard Baechler, a native Alsatian living in France.

[↩]